FAQ/Tips for Digital Content Viewing
FAQ/Tips for Digital Content Viewing
FAQ/Tips for Digital Content Viewing:
1. What internet browsers do you recommend for San Diego Symphony livestreams?
The recommended browsers for viewing are Chrome 30+, Firefox 27+, Microsoft Edge, or Safari 9+. Internet Explorer will not work well with the video stream.
2. I already paid for my livestream concert, how do I now watch the performance?
Digital All-Access Passholders and single concert registrants will receive a reminder email the morning or day of the performance with a direct link from tickets@sandiegosymphony.org. Please make sure to check your junk/spam folder.
If you get to the page after the start time you will join the broadcast in progress. You will have complete access to the entire program immediately after it airs. Just continue to use your link. Classical programs will be accessible through December 31, 2021.
3. Will patrons need to login to view the event?
Not at this time, but in the future, logins will be required. Check back to this page for updates.
4. Will patrons be able to access concerts from our website?
Different from what we've done in the past, these exclusive-access concerts will not be available to view on either our website or our public YouTube channel. Only those patrons who paid for access to these concerts will have exclusive access to this content.
5. Can I watch these concerts on my television?
If you have a SmartTV, you may access this performance by manually entering the exclusive link URL on your web browser app. If you have an existing at-home set up with a SmartTV or one that allows you to stream, cast, or mirror to your television set, you may use that method to watch our performances on additional devices.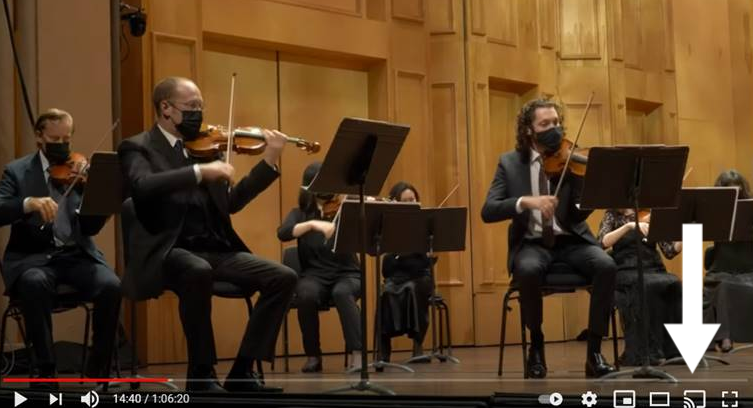 We are happy to provide some useful tips on how to watch these exclusive-access performances on other devices, however, we are unable to provide technical support for TV streaming.
6. Can more than one member of my household view this concert?
Yes, anyone in your household may view the event using the link we send you in the reminder e-mail. Please direct other households to make a separate purchase to access the performance.
7. If I've misplaced my reminder email, how can I access the performance stream?
We'll be happy to send a direct link. Just reach out to tickets@sandiegosymony.org and we'll make sure you have everything you need to watch the concert.
8. How long will these concerts be available for viewing?
All classical programs included on the Digital Pass will be available for on-demand viewing through December 31, 2021. Single concert registrants will be able to view their concert through that date as well.
9. How do I control the volume?
In addition to the regular sound capabilities of your chosen viewing device, there is a volume control button inside the video stream of the concert and is located in the lower left corner of the video frame.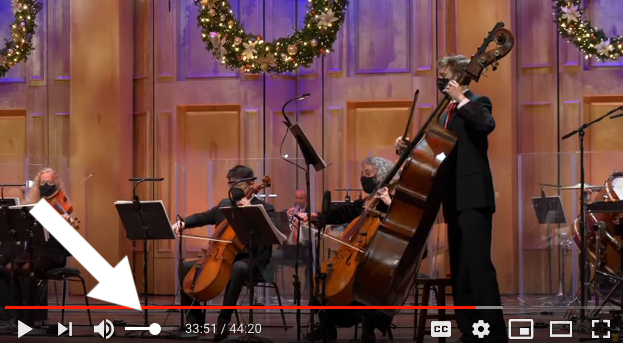 10. Can I control the video resolution?
Yes, there is a video resolution control located in the lower right corner of the video frame of the streaming concert. It usually defaults to "auto" to adjust to your bandwidth automatically, but if you choose to control this more manually, that option is available when viewing.
11. Can I make the video full screen?
Yes, there is an option to view the video in full screen mode. That option is located in the lower right corner of the video frame. To exit full screen mode at any time, you can press the "Esc" button to return to the main viewing page.